I am Päivi Takkinen and dogs has been my passion throughout of my life. Today I have at home three ps standard schnauzers and one miniature schnauzer. I breed standard ps schnauzers and miniature schnauzers with the kennel name Bonzen from the year 2012. I already absorbed the "dog hobby gene" into my mother's milk and grew up in a dog hobby family, and it wasn't difficult for me to justify buying my "own" dog. My first "my" dog was a German Shepherd who was retired for service dog duties. The well-trained German Shepherd was an excellent companion throughout my teenage years providing support and safety. For Schnauzer breeds, I get acquitted more than thirty years ago. I fell in love of schnauzers character, type, sporty and for the possibility to groom. I have bred during my Bonzen years already 13 International (FCI) champions and many champions. Also I have had the pleasure of owning wonderful dogs that have had success both in Finland and worldwide. Not to forget my excellent teachers who have increased my passion for schnauzer breeds and this hobby. Still I enjoy showing my own dogs when possible. After acquiring my first Miniature Schnauzer, I joined the Finnish Schnauzer-Pinscher Club and quickly realized that I was a very active member. For many years I served as secretary to the Finnish Schnauzer-Pinscher Club. I was one of the founding members of the Finnish Miniature Schnauzer Club and many years working as a secretary of the club. I became a judge in 2014 and little by little expand my rights in group two.
I've been around hunting dogs all my life, mostly Finnish Spitz and Border Terriers. At the moment, I breed Finnish Spitz, Swedish Elkhounds and Norrbottenspitz with my wife Taina, under the prefix Karahkan. One of the most successful dogs from our kennel is Karahkan Eka-Essi, the two-time winner of the Finnish Championship Trial for Finnish Spitz. In addition to dogs I like spending time at our summer cottage. I also like to pick wild mushrooms and berries in the forest. Hunting is of course an essential part of my life. I mostly hunt fowl with Finnish Spitz and elk with Swedish Elkhounds. I spend autumns judging hunting trials and competing in trials with my own dogs. I was authorized as a judge in 1992 and have been licensed to judge breeds in groups 5, 6 and 8.
Talvitie Marja, Finland
I have spend all my life with dogs. My parents had German Shepherds and later St. Bernhards, long haired, even one BIS-winner.
At my own home I first during the years 1966 – 98 had Lapponian Herders. I bred many Champions, and dogs bred by me were also working as Reindeer Herders in Lappland. That´s the reason I'm still very interested in all herding breeds.
When we moved to city year 1984, I had to think different kind of breed. That´s how I turn to terriers, first Scottish Terriers, in which I had some litters, among them many Champions and some International Champions. Not breeding anymore. I´m allways want to have at least one Scotti at home.
Year 1986 I got the first Dandie Dinmont Terrier. Under prefix Winterway's I have bred with my youngest daughter many litters in Dandies. Among dogs bred or owned by us are many International Champions as well as European Winners. Since 1982 I have been judging in different countries all over Europe and also twice in Australia, and Mexico, Costa Rica and Chile, Central America and Canada, North America.
Yearly I have about 30 Shows to judge. I'm now allowed to judge Group competitions and all breeds in following FCI Groups 1, 2, 3, 4 and 5.
I have spent my whole life with dogs. My parents had German Shepherds and later also long-haired St. Bernards. When I moved away from home, I got myself a Lapponian Herder. I bred Lapponian Herders from 1966 to 1998 under the prefix Toiskan. Many dogs from my kennel were champions, and many of them also worked in Lapland as reindeer herding dogs. I also had Finnish Lapponian Dogs for many years. Terriers stepped into the picture when we moved to Helsinki in 1984. First the Scottish Terrier, which I bred a few litters of. I got my first Dandie Dinmont Terrier in 1986 and have bred this breed together with my daughter under the prefix Winterway's. We have exported Dandies to the USA, Italy, Sweden, Germany, the Netherlands, England and Portugal. I have also had two Bouvier des Flandres from the Netherlands and have bred one litter in this breed as well. I became a judge in 1982 and am today an all-breed judge. I have judged all over Europe as well as in Australia, Mexico, Chile, Japan, Taiwan, Thailand, Costa Rica, the Philippines and Canada. I have served in many positions of trust and in committees of the Finnish Kennel Club, amongst others as a member of the Board from 1996 to 2006. During that time, I was also a member of the Show and Judges Committee in both the Finnish Kennel Club and the FCI.
Tammelin Tuula Danmark
Tuula är uppfödd i Finland men numera bosatt i Danmark. Hon växte upp med Finsk Spets och Stövare men hennes första egna hund var en Mops. Numera aktiv med collie.
Tan-Hietalahti Elina, Finland
Jag ser mig som en schnauzermänniska. Fick min första peppar&salt mellanschnauzer 1954. År 1958 importerades från Tyskland den första svarta mellanschnauzertiken i Skandinavien. Samtidigt påbörjades min uppfödning av schnauzer, först i Finland med min exmake Hans Lehtinen under kennelnamnet Rivale. Uppfödningen fortsatte sedan i Holland med min nya man under kennelnamnet Hweeko. I båda länderna uppnåddes mycket fint avelsresultat, många nationella och internationella champions samt världsvinnare. Till vårt hem i Holland kom även de två första shiborna från England.
Efter min mans bortgång flyttade jag tillbaka till Finland och äger numera en tibetansk spaniel från Norge.
Jag var med och bildade Finsk Schnauzer- och Pinscher Klubb år 1954, och är sedan dess mångårig vice ordförande och ledamot i dess avelsråd. Var även med i bildandet av ISPU (Internationell Schnauzer och Pinscher Union) där jag var Finlands representant under alla år innan jag flyttade till Holland.
Jag auktoriserades som domare 1966. Är gruppdomare i FCI för grupp 1, 2, 5, och 8, samt några andra raser. Har dömt i alla nordiska länder och i de flesta europeiska länder samt i USA, Australien, Indonesien och Japan.
Tarjan Annamaria, Ungern
Uppfödare av petit brabecon och griffon bruxellois under prefixet red devil. Har tidigare haft dvärgpudel. Äger en fotoateljé som hon arbetar i till vardags. Dömt i flertalet länder i Europa. Tidigare dömt i Sverige.
Tast Harry, Finland
Year of birth: 1945. Breeds owned / bred: Wire Fox Terrier. Breeder since: the first dog in 1963, the first litter in 1968 Prefix: Bonnie Step. Vuolasvirta Breeder's Plaque of Finnish Kennel Club in 1982. Year of the first qualification: 1985 Qualified to judge all FCI breeds. Judged in the following countries: Finland, Sweden, Norway, Denmark, Germany, Belgium, Netherlands, Hungary, Italy, Greece, Spain, Portugal, Russia, Estonia, Latvia, Lithuania, Kazakstan, Australia, South Africa, Canada. Languages: Finnish, Swedish, English, German, French He is member of the Council and the Board of Finnish Kennel Club and chairman of its Future Committee. He is the representative of Finland in the Ferreting Dogs Commission of FCI. He has been active in the regional organisation of Finnish Kennel Club and chairman of the Ferreting Dogs Committee of Etelä-Häme Kennel District. He has been active in the breed club work, having been a.o.t. President of the Fox Terrier Club. He has been decorated by Black Russian Terrier Club, Hungarian Shepherds Club and Tibetan Breeds Club. He is active in the Breed Clubs of Black Russian Terrier, Hungarian Shepherds, Irish Terrier, Jack Russel Terrier, Tibetan Mastiff and Great Japanese Dog as an exterior judge member of the respective Breeding Committees. His other hobby is equestrian sports. He is an international Dressage Judge, Gait Judge for riding horses and member of the national Stallion Committee of Finland. He is still an active rider and has bred a few Finnish Worm Blooded (FWB) riding horses. Fick min första hund 1963 av rasen strävhårig foxterrier och den första kullen föddes 1968. Föder upp under kennelnamnet "Bonnie Step" och blev 1982 belönad med Voulasvirta-priset från den Finska Kennelklubben. Jag har tagit del i många förtroendebefattningar vid Finska Kennelklubben, Södra Tavastelands Kenneldistrikt och rasklubbsverksamhet. I detta nu är jag medlem av Kennelklubbens styrelse, ordförande för dess framtidskommission och medlem av FCI-Ferreting Dogs Committee. Exteriördomare sedan 1985 och allrounddomare sedan våren 2004. Har dömt i de flesta länder i Europa samt i Kazksthan, Sydafrika, Kanada och Australien. Vid sidan av hundarna är jag också aktiv inom ridsport och ridhästavel. Är internationell dressyr och gångartsdomare för ridhästar samt medlem av den nationella hingstpremieringsnämnden.
Harry got his first dog in 1963 and his first litter was born in 1968. The breed was wire-haired Fox Terrier and the kennel name "Bonnie Step". In 1982, Harry's breeding efforts were awarded with the Finnish Kennel Club's Vuolasvirta prize. Today, Harry has a smooth-haired Fox Terrier at home. He has served in many positions of trust in the Finnish Kennel Club, for example in the Finnish Kennel Club's Board and Council, Show and Judges Committee, and as chair of the Future Committee. He has also been active in different breed clubs, for example as chair of the Fox Terrier club in Finland as well as in local kennel societies. Harry was authorized as a dog show judge in 1986 and was appointed an all-breed judge in 2003. He has judged in almost every country in Europe and in Asia, Africa, Australia and North America. Harry's other interests include riding and breeding horses and he has officiated as a dressage judge and as a gait judge.
Taulos Tiina, Finland
I breed Poodles of all sizes and Boston terriers under prefix Canmoy's and had my first litter of poodles in 1981. I started judging in 2002 with Poodles and very soon after that, I got Bichon Frisé, Lhasa Apso and Maltese. My terrierbackground is through my ex-husband who are a breeder of Wire Foxterriers and Westies. We also had a Sealyhamterrier which I mostly handled and during that time we also had a Scottie as a familymember. I like to judge terriers because in most countries they are wellhandled and people are quite professional. Also most Terrierbreeds are very stylish and elegant which pleases me a lot. Now I have almost the whole Group 9 and 18 of the Terrierbreeds. I'm also allowed to start in Group 4 and 8. The breeds I've been judging the most are Poodels, Pugs and Jack Russel Terriers. I've been judging in All of Scandinavia, Estonia, Latvia, Lithuania, Russia, England, Holland, Italy, Spain, Croatia, Mexico, Brasil, Australia, Germany, Poland, Japan, Luxembourg and Hungary
Tiina Taulos breeds Boston Terriers, Pugs, French Bulldogs and Poodles under the prefix Canmoy´s. She started with dogs in 1977 and her first litter of Medium Poodles was born in 1981. She's been awarded with the Finnish Kennel Club's Vuolasvirta prize twice; in 1989 for merited breeding of Medium Poodles and in 2018 for merited breeding of Boston Terriers. Tiina was authorized as a judge in 2002 and is licensed to judge breeds from all groups. She is also a group judge for groups 3, 4, 8, 9, and 10 and a Best in Show judge. Tiina has officiated in 40 different countries on 5 different continents. She's a member of the board of the Finnish Dog Show Judges' Society and the Finnish Toy Dog Club and is in charge of training of judges and overseeing judging exams for several toy breeds as well as Poodles. She represents The Finnish Poodle Club in the Finnish Kennel Club's Council.
Tchistiakova Lessi, Ryssland
Lessi föddes in i hundvärlden med Collie och har sen dess haft Weimeraner, Pudel och Kerry Blue Terrier, rysk toy terrier. Hon fick sin domarauktorisation 1985 och är nu allrounder. Hon har varit med och startat upp bl a Terrier Union of Russia 1999 och Estlands Kerry Blue Klubb 1989.
Lessi Tchistiakova, Ryssland.
Är uppvuxen med bl.a. Collie, Eng Setter, Gordon Setter och Pointer. Introducerade Weimaranern till Ryssland på sent 80-tal. Har varit ordförande i Weimaranerklubben. Köpte första Kerry Blue Terriern 1980. Har fött upp c:a 800 Kerry Blue Terriers i Estland och Ryssland. Har kennelprefix "Eestiless". Är domare sedan 1985. Vill se starka individer med starkt temperament.
Teini Pekka, Finland
Är född 1961 och haft raserna Beagle, Finsk spets och Norrbottenspets. Under 70-talet födde Pekka upp några Beagelkullar under prefixet Reppukorven. Han blev auktoriserad domare 2002 och dömer hela grupp 4, 5, 6, 7 och 8 samt ett stort antal raser i grupp 3 och 10.
I grew up with dogs. My parents got their first Sheltie in 1964. In 1970 we bought more Shelties and an American Cockers. That was our introduction in the Dog World. Showing and training became a hobby of the family. I started to train and show my dogs at a very young age. In 1976 I became Dutch Obedience Champion at the Winner Show.
Our kennel name is 'Own Delight'. The first Sheltie litter was born in 1975. We only bred a litter when we had the intention to keep a dog. All dogs live in the house and are part of the family. That is why we have now,40 years later, bred only six generations. But every generation gave us a Show Champion and we bred 4 following generations show champions We had 15 Sheltie champions in all colours. My pride and joy was my dog Own Delight's Pascal who was a dual champion. He is a Show Champion and in 2006 he became also Agility champion at the age of 9 years. I have two Show Champion daughters of him with which I still train agility.
I studied Biology and specialized in animal (dog) genetics. My first judges assessment in Holland was in 1996 for Shelties. In 2001 I also passed the judges training scheme in England for Shelties. I have a brought interest in everything that has to do with dogs.
So I judge Group 1 and a big part of Group 5 and some breeds in other Groups. I judged in many countries even in Australia and South-Africa. I judged more than 200 CACIB/CAC shows and in total over a 20.000 dogs including 3500 Shelties and 4000 Belgian Shepherds.
Next to being a judge I am involved in several committees and I give seminars about breed Standards and Construction of dogs and Genetics. So dogs are not only a hobby but also a way of life. I love it.
Tenson Helin, Finland
Jag har varit aktiv inom hunduppfödning sedan 1982 och min första ras var långhårig Collie. Mitt första kennelnamn var Luck-Lustre, mitt FCI prefix sedan 1993 är Calleca`ry. Genom åren har jag ägt ett antal olika raser, men för tillfället ägnar jag mig huvudsakligen åt Fransk Bulldogg och Pomeranians. Jag blev auktoriserad domare 1991 och FCI godkänd -95, har dömt i Baltikum, Ryssland och Skandinavien. 2010 flyttade jag från Estland till Finland med min kennel.
I have been involved with dog breeding since 1982 and my first breed was rough collie.My first kennelname was Luck-Lustre. Official kennel in FCI Calleca`ry since 1993. I got judging rights in 1991. FCI judge rights 1995. I have been a judge in many countries. Official BIS judge. Breeder judge rough collies, dachshunds, whippets,french bulldogs and american cocker spaniels. Owned very diferent breeds: rough collies, whippets, miniature long-haired dachund, bullmastiff, belgian and east-european shepherd, tibetan
mastiff, russian toy and american cocker spaniel. At the moment at home only pomeranians.
Terry Dick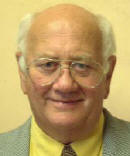 I am married and live in Lincolnshire with my wife and two young children aged 8 years and 4 years, I have owned Cavaliers since 1969 and judged my first in 1978, I awarded Challenge Certificates in Cavaliers for the first time in 1991 I have since awarded CC in the breed 12 times, I also own Lowchens, I have had the honour of judging the Breed Ch Show and Crufts, I have also judged the Swedish Championship Show twice, I award Challenge Certificates in 6 Toy Breeds Cavaliers, Lowchens, Papillons, Yorkshire Terriers, English Toy terriers, and Miniature Pinschers, I am waiting to hear from our Kennel Club to be passed for Pugs, Chinese Cresteds, Longcoat Chihuahua.
Dick Terry of Virgloshimee delar sin kennel med sin fru Sue (se nedan). Han började visa Cavaliers 1972 och har sen dess Cavaliers, Löwchen & Papilloner. Terry är en av grundarna av Southern Cavalier Club. Dick har sen dess flyttat norrut i England och blev då en medlem i the Northern Cavalier Society och har varit ordförande där de senaste åren. Terry har dömt Cavalierer sen 1991 och han har varit i ett flertal länder och dömt. Terry dömer även Chihuahua långhår och Chinese Crested samt Engelsk Toy Terrier, Löwchen, Dvärgpinscher, Papillion, Mops och Yorkshire terrier.
Terry Sue
Sue började visa Chichihuas redan 1978, och senare även Löwchen, Cavaliers & Papillons. Hon har varit Top Breeder och har vunnit Top Dog, Top Puppy, Top Stud dog & Top Sire ett flertal gånger, Shimeesha Löwchen har vunnit mer än 50 CC's och över 50 Reserve CC's. Sue började döma 1986 och nu dömer hn hela Toy Gruppen, hon har dömt specialutställningar för Cavaliers i flera länder utomlands bl a Sverige och USA. Hon dömde på Crufts 2011. Sue visar inte särskilt ofta hund längre utan är dömandet tar upp det mesta av hennes tid samt att hon är intresserad av att administrera utställningar.
Tesics György Ungern
Jag har haft uppfödning av Afghanhundar och Sloughi under kennelnamnet Ben Ben's YU sedan 1987. Vid 22 års ålder, 1991, var jag den yngsta domaren i forna Jugoslavien som blivit gruppallround på FCI-grupp 10 (Hela vinthunds gruppen). 1996 blev jag också godkänd gruppallround på FCI-grupp 5. (Spets & Urhundar) Jag har haft domaruppdrag i alla öststatsländer samt Ryssland, Skandinavien, många andra Europeiska länder och USA. 2003 blev jag auktoriserad Lure Coursing domare, "vinthundarnas bruksprov". Tillvardags arbetar jag som tandläkare i Budapest, Ungern, dit jag och min dotter flyttade efter NATOs bombningar av Jugoslavien 1999. Jag är numer omgift och har fått tillökning i familjen med ett par tvillingar. Förutom mitt modersmål Serbiska talar jag också Ungerska, Tyska och Engelska.
Teslenko Olga, Ryssland
My first Labrador, a black bitch, was born in 1983, when I was 8 years old. Since that timeI've been deeply involved in Retriever world. First Golden retriever appeared in our family in 1995. For the moment I have two Golden bitches at home, one oldie and one youngster.Our prefix is "Zvezda Severa", we've bred several International Champions and Champions of different countries. In recent years we practically stopped our breeding due tothe lack of time.I'm a member of Russian Retriever Club Show committee and take an active part in retriever community life. I was authorized as an FCI judge in 2009, now Im allowed to judge all VIII group and some breeds in V, VI and VII groups FCI. I've judged retrievers in Belorussia, Iceland, Kyrgyzstan, Norway, Poland, Russia and Ukraine.I've never judged in Sweden, so I'm very much looking forward to the show.Thank you very much for inviting me.
I got involved with dogs in the 1970s along with my first dog. I became an authorised ring steward along with my interest in dog shows and in the beginning of the 80s I became a dog show judge. My first breed as a judge was the Boxer. Group 2 is my "home group", so to speak. My special interest in and deepening my knowledge of Mastiff-type breeds have however taken me easily to the world of small Molossers, where I feel at home as well. I have judged in some 20 countries. I have been active in breed clubs ever since I got interested in dogs. At the moment I am responsible for educating judges for Boxers, this is probably my at least 20th year in this position. I represent the Finnish Boxer club in the Finnish Kennel Club's Council. I have owned or co-owned 10 Boxers. I have had one to three dogs at home at the same time. Together with my husband, we bred a few Boxer litters in the 90s. We however gave up breeding due to lack of time. At the moment we have two Boston Terriers. I work in Finance and Banking business, I am married and we have a son. My interests are travelling and passionate reading. I also listen to many different kinds of music, from Italian opera to fado and hard rock. I love movies. I am in voluntary welfare work and active in the Lions Club. Saying that being a judge is a hobby for me would be understating. Of course it is a hobby since it is not a paid job, but I see it more as a burning passion and a continuous learning process that gives me joy and energy and makes me a happier person.
Theodorsen Sverre, Norge
Alder: 71 år (-06) Bosted: Hundvåg i Stavanger Egen rase: Shetland sheepdog siden 1972. Formann i raseklubben i 5 år i slutten av 70- og begynnelsen av 80-årene. Dommer: Autorisert lydighetsdommer siden 1983. Vært medlem av NKK:s Fagkomite for Lydighetsprøver i en årrekke.
Thoresen Ann-Elise Norge
Mitt navn er Ann-Elise Thoresen, jeg er 1951 modell og bor i Tromsø – Nordens Paris -Norges vakreste landsdel. Jeg bor sammen med mann og to newfoundlandshunder, og jeg er så heldig at jeg har to barn og to barnebarn. I tillegg en "halv" bordercollie. I 1974 fikk jeg min første nuffe, og siden da har jeg hatt en rekke nuffer. Fra 80-tallet har jeg konkurrert LP med denne herlige rasen. I dag har jeg to nuffedamer som jeg konkurrer med. En i klasse I og min eldste, Nuch Colargol's Ville Maja Mammajenta, er første og eneste newfoundlandshund som har startet i eliteklassen i Norge. Maja har også SOR (svømme og redningsbevis). Mine interesser er hund, hage og urter. Sammen med mine nuffer har jeg vunnet utallige LP-stevner, og veggen på kontoret hjemme prydes av flere BIS-rosetter. Jeg har også trent agility – da med lånt hund. Vi har startet i bruks spor, og nuffen egner seg ypperlig som trekk og kløvhund. Vanntrening er også givende, men det beste er turer på fjellet og i skogen. På slutten av 80-tallet ble jeg autorisert agilitydommer og i 1994 ble jeg autorisert lydighetsdommer. Jeg er aktivt med i hundemiljøet i Tromsø. Hund er for meg ikke bare en hobby, men en livsstil.
Threlfall Bonnie P.
of Cary, NC, began showing her father's Labradors as a teenager. They included a National Specialty winner and a group winner. The first dog of her own was an Irish Water Spaniel, who became the breed's first Ch. U.D. titled dog. This dog was also the great grandmother of the 1979 Westminster B.I.S. winner. Ms. Threlfall was an assistant to Robert & Jane Forsyth before beginning her 15-year career as a professional handler. As a breeder, she is known for her Edgewood English Cocker Spaniels, which, since the 1970s, have won all the major awards at the breed's National Specialties, often more than once. She was the owner of the top sire in the history of the breed in the USA. Club memberships include the English Cocker Spaniel Club of America, The Cocker Club (UK), and the Cary Kennel Club (founding member). Ms. Threlfall judges the Sporting group and 32 additional breeds from the remaining groups. She has judged five National Specialties, Westminster, & the AKC/Eukanuba National Championship.
Timmermans-Kadenko Nadjia (NL)
Before Nadjia came to Holland, she was already professionally involved with dogs. Having a degree in biology, Nadjia was the employee in the Far East department of the Russian Kennel Club and the leading selectionist in the breeding programms. The characteristics of this job made her deeply involved in the breeding and judging of different breeds.
From 1987 she was a judge in Russia. In Holland from 1993, Nadjia continued her dogs related life and followed the obliged courses of the Dutch Kennel Klub, passed all the necessary exams and in 2004 she became an official FCI judge. As judge, dog sport fancier and photografer she is actively present on many dog shows and working trails.
Now a days many breeds is on her list and geography of her judging wide.Passion for the journalism and photography resulted in her popular book series "The World of Dobermanns" and popular infosite "DobermannWorld". With the kennel "Russkaja Mechta " which means "Russian Dream" Nadjia has became a quite famous Dobermann breeder in Holland now a days and many work and show champions are the result of her breeding.
Ambitions, Experience, Quality and Good Care are the core characteristics of her work.
Tonkson-Koit Helen, Estland
International Championship show judge Mooncraft's kennels Paekaare 66-60 Tallinn, 13611
In my professional life I work as a legal adviser but I have been showing dogs since 1990 and judging since 2005. I was founding member of Estonian Great Dane Club and was Club vice-chairman for five years. I was twice elected to be a board member of Estonian Terrier Club. I have also been a board member of Bull-type Terrier Club. I was elected to be Estonian Kennel Club proxy and auditor in 2002-2006. Since 2006 I have been member of Estonian Championship Judges Comity. I have been engaged in breeding dogs under the affix MOONCRAFT´S since 1996. In 1994 I imported first Staffordshire Bullterrier to Estonia and Baltic States In year 2000 first Miniature Bullterrier was imported to Estonia and Baltic States by Mooncraft´s kennel. I have improved my kennel by importing dogs from UK, USA, Germany, Finland with different bloodlines. I have bred and owned several champions among them World Winners, European Winners, Crufts class winners, many International and National Champions, USA Champions, Nordic, Baltic and National Winners. Mooncraft´s kennel has been the TOP-kennel of the year by EKL ranking. Many dogs bred by Mooncraft´s have won places at their countries Best Showdog contests. Mooncraft´s Miniature Bullterriers have won BIS-kennel at international shows. I have rights to judge and to award dogs with CC and CACIB of following breeds: FCI 2: Great Dane, Do-Khy (Tibetan Mastiff), Bullmastiff, Italian Corso Dog, Caucasian Shepherd Dog, Central Asia Shepherd Dog. FCI 3: American Staffordshire Terrier, Staffordshire Bull Terrier, Bull Terrier, Bull Terrier Miniature.
I have judged several shows, among them Specialty Shows in Germany (VDH-GBF Bayern-Cup), Finland (Finnish Terrier Club main show), Lithuania (Bullterrier Club Show), Great Dane Club Show.
Tonkson-Koit Helen, Estland
Since 24 September 2014 I act as President of Estonian Kennel Union. In 2002-2006 I was elected to be Estonian Kennel Union (EKU) proxy and auditor and I carry on 2011-2012 as a board member of Estonian Kennel Union. Between 2006-2010 I have been board member of Estonian Championship Judges Comity I was also a founding member of Great Dane Club and Club vice-chairman for five years. For two period I was active board member of Estonian Terrier Club.
In my professional life I work as a lawyer. I have been showing dogs since 1990 and judging since 2000.
I have been engaged in breeding Staffordshire Bullterriers and Miniature Bullterriers under the affix MOONCRAFT´S since 1996.
Up to 2014 I have bred 15 Staffordshire Bullterrier breed champions and 32 Miniature Bullterrier champions – among them World Winners, European Winners, Crufts class winners, many International and National Champions, USA Champions also Nordic, Baltic, Eurasia and National Winners. Mooncraft´s kennel has been the TOP-kennel of the year by EKU ranking. Many dogs bred by Mooncraft´s have won places at their countries Best Showdog contests. Mooncraft´s Miniature Bullterriers have won BIS-kennel at international shows.
At the moment I have rights to judge dogs in Championship level and to award dogs with CaC and CACIB in FCI group 2, 3, 4 and 9. I´m a specialist judge for Bull-type Terriers and Great Danes. I have judged several National and International shows, among them Specialty Shows in Germany (VDH-GBF BayernCup, VDH-DCBT Club Show), Belgium (C.E.T.S – Continental Europe Trophy Show for Bullterriers & Miniature Bullterriers), Finland (Finnish Terrier Club main show, Bullterrier Club Trophy and Open show, Staffordshire Bullterrier & American Staffordshire Terrier Club Show), Australia (Stafforshire Bullterrier Club Specialty Show), Czech Republic (Bullterrier Club Specialty show), Sweden (Terrier Club Show), Norway (Terrier Club Show), Lithuania (Bullterrier Club Show), Latvia (Terrier and Moloss Specialty Show), Great Dane Club Show, Mastiffs Club Show. I have also judged in Belgium "50-th Eurodogshow" and Germany "VDH-Europaseiger Show", Estonian Winner and Baltic Winner shows. Countries where judged: Australia, Belgium, Czech Republic, Denmark, Eire, England, Estonia, Finland, Germany, Latvia, Lithuania, Norway, Poland, Slovenia, Spain, Sweden
Torres Delicado Manuel, Spanien
Är auktoriserad att döma American Staffordshire Terrier, Staffordshire Bull Terrier, Bull Terrier, Miniatyr Bull Terrier, Norfolk, Norwich och Golden Retriever. Manuel började döma 2000 och startade med bullraserna.
Han äger och föder upp Am Staff, Norfolk och Labrador Retriever under kennelnamnet Ngorong-Ngorong. Han dömer raserna American Staffordshire Terrier, Staffordshire Bull Terrier och Bull Terrier mest ofta och har dömt I Spanien, Jugoslavien, Finland och på Svenska Terrierklubbens Jubileumsutställning 2003
Trainin Zeev, Israel
Professor emeritus of Immunology at the School of Veterinary Medicine, the Hebrew University of Jerusalem. Editor of The Israel Journal of Veterinary Medicine.
Main research topics:
1. Transfer of immunity from mother to offspring. 2. Immunization of domestic animals (invention of vaccines) 3. Acquired immunodeficiency in animals and men.
Author of approx. 150 scientific publications in reviewed journals.
Since 1965 – International judge for Schnauzers. For 3 decades a breeder of Standard Schnauzers and Greyhounds.
1975 – All Breed Judge.
1985-1987 – President of Israel Kennel Club. Served as host of the FCI General Assembly in 1987 in Jerusalem and the World Dog Show in 1987 in Tel Aviv.
Judged in International Dog Shows in 28 countries in 4 continents
Since 1985-member of the Scientific committee of the FCI.
Tufte Mette, Norge
Jag är född 1959 och har haft hund i hela mitt liv. Jag har haft uppfödning av Bouvier des Flandres i liten skala, trimmat och ställ ut sedan 1981. I barndomshemmet växte jag upp med Pudel, Gordonsetter och Skotskterrier. I många år var jag aktiv som ringsekreterare för att 2001 bli auktoriserad domare. Jag dömer raser i grupp 1 och 2, men har också börjat så smått med raser i grupp 3. Under alla år har jag också varit mycket engagerad i olika klubbar inom hunderiet. Jag har stor respekt för allt arbete som läggsned i förberedelsena för att ställa ut sin hund, därför hoppas jag att jag ska klara att ge alla den tid och uppmärksamhet som var och en förtjänar i ringen.
2018
Mette Tufte, Norge
Uppfödare av riensenschnauzer.
Anders Tunold-Hanssen started out with a rough collie but his interest for dogs in general has moved him into several breeds, among others Miniature Schnauzers and Dachshunds.
For the last 10 years PBGV has been his breed and he is the proud breeder of the Crufts BOB winner 2016.
Anders started judging in 2004 and is judging several breeds in group 1, 2, 4, 6 and 9.
Anders has served as the president of the judges organisation in Norway for many years, and are currently heading the NKK subcommittee for dogshows. He is also appointed as the NKK representative in FCI Show- and Judges commission.
Tyssen Dianne
My husband and I purchased our first pedigree dog, a Cavalier King Charles Spaniel – in 1972. We soon became involved in showing and added Griffon Bruxellois, Weimaraners and a German Shepherd to our kennels. We registered our `Prestonville' prefix in 1974 and we have bred or owned 99 Cavalier King Charles Spaniel Champions, 17 Griffon Brucellois Champions, 9 Weimaraner Champions, 2 King Charles Spaniel Champions and two Border Terrier Champions. We have homebred Cavalier Champions in NZ, Australia, USA, Japan and Finland.
For me a natural progression from exhibiting breeds in different groups was to judging them. I attained my judging licence in 1980 and my Championship Show licence for Toys in 1983, followed by Working Dogs, Gundogs, Non Sporting, Utility, Hounds and completing the last group Terriers in 1997 which culminated in my All Breeds Championship Licence being granted in January 1998. Judging has taken me throughout NZ, 7 Australian States, Hong Kong, Philippines, USA and England (awarding cc's in Cavalier Dogs). I have judged Breed Specialties in Weimaraners (1 in NZ & 2 in Australia), Cavalier King Charles Spaniels (3 in New Zealand & 2 in USA – including The American CKCSC National – 2006), Pekenese (1 in NZ), Shih Tzu (1 in Australia), Jack Russell Terriers (1 in Australia) Group Specialties in Toys (NZ & Hong Kong), Gundogs (NZ & Australia), Working Dogs (New Zealand) and Terriers (Tasmania, Australia).
Since 1976 I have served in various offices in local All Breeds, Group and Breed Clubs, including Secretary, President & currently Senior Vice President of Southland Kennel Assn. I am a Life Member of the Southland Working Dog Club, Southland Kennel Association and Otago/Southland Cavalier King Charles Spaniel Club after a third two year term as President. I served for many years as Chairperson & Secretary of the Southland Branch NZKC Judges Assn. I am currently in my twelfth year as NZKC Delegate for Otago/Southland representing Specialist Group & Breed Clubs. I recently served five years as Chairperson of New Zealand Show Judges Association.
Törnblom Jan
En gentleman. Flott, elegant och alltid lika korrekt. Även han är kurskamrat till Sara Nordin. Jan kan man se i utställningsringarna runt om i Europa, där han med stor bravur, visar sina Cavaljerer.
I was authorized as a Championship Show judge in 2006 for my first Toy breeds Cavalier King Charles Spaniels and Chinese Crested dogs which are the breeds I have been breeding under the prefix Hackensack. For many years we were very active showing our dogs, mostly Cavaliers. I found an interest in dogs at an early age and have had Newfoundland, Labrador and Irish Red Setter apart from the Cavaliers and Chinese Cresteds. Lately also Afghan Hounds and nowadays only a highly loved Griffon (Bruxellois). In my youth I was also active within the equestrian world and for a while I competed in Show Jumping. Prior to authorization I judged at Open Shows in the Scandinavian countries as well as in England (Cavaliers), which I still do from time to time I find it very rewarding to judge at dog shows where I can both enrich and develop my dog knowledge with new breeds I feel a connection to. At Championship Show level I now judge most breeds in group 9 (Companion and Toy dogs) plus some Terrier breeds, Shetland Sheepdogs, Pomeranians, Swedish Vallhund (Västgötaspets), Flat Coated Retrievers and Afghan Hounds. I am looking forward to visit your country and judge at this show!
Jan Törnblom
Kennelnamn
Hackensack
Hemsida
http://web.telia.com/~u8512216
Född år
1961
Yrke
Säljare
Auktoriserad exteriördomare år
2006
Dömer följande raser

| | |
| --- | --- |
| 1 | Shetland Sheepdog |
| 3 | Border Terrier |
| 3 | Cairn Terrier |
| 3 | Irish Soft Coated Wheaten Terrier |
| 3 | West Highland White Terrier |
| 5 | German Spitz, Pomeranian |
| 5 | Swedish Vallhund |
| 8 | Flat coated retriever |
| 9 | Bichon frisé |
| 9 | Bolognese |
| 9 | Cavalier King Charles Spaniel |
| 9 | Chihuahua, Long-haired |
| 9 | Chihuahua, Smooth-haired |
| 9 | Chinese crested dog, Hairless |
| 9 | Chinese crested dog, Powder Puff |
| 9 | Continental Toy Spaniel Papillon – with erect ears |
| 9 | Continental Toy Spaniel Phalène – with hanging ears |
| 9 | Coton de Tulear |
| 9 | French Bulldog |
| 9 | Griffon belge |
| 9 | Griffon bruxellois |
| 9 | Havanese |
| 9 | Japanese Chin |
| 9 | King Charles Spaniel |
| 9 | Lhasa Apso |
| 9 | Maltese |
| 9 | Petit Brabançon |
| 9 | Poodle, Medium Size |
| 9 | Poodle, Miniature |
| 9 | Poodle, Standard |
| 9 | Poodle, Toy |
| 9 | Pug |
| 9 | Russian Toy, Longhaired |
| 9 | Russian Toy, Smooth-haired |
| 9 | Shih Tzu |
| 9 | Tibetan Spaniel |
| 9 | Tibetan Terrier |
| 10 | Afghan Hound |

Har haft hund sedan
1976
Egna raser
Cavalier king charles spaniel, tidigare: kinesisk nakenhund, new foundland, irländsk setter
Språkkunskaper
Engelska
Har dömt i följande länder
Sverige
Finland
Norge
Usa
Tjeckien
Danmark
England
Har/har haft uppfödning av följande raser
Cavalier king charles spaniel, kinesisk nakenhund
Har/har haft avelshundar av följande raser
Cavalier king charles spaniel, kinesisk nakenhund
Egna framgångsrika hundar
Top Cavalier 1992 – 1993, 1995, 1999 – 2006
Årets uppfödare cavalier 1999 – 2006
Certrekordhållare på cavalier:
IntUCh NordUCh SV-00 KBHV-01 WW-03 Hackensack Razzle-Dazzle
Top Kineser 1991 + 1992
Övriga intressen
–
Törnlöv Anna
Kennelnamn
Rusch
Hemsida
www.rusch.nu
Född år
1947
Yrke
Egen företagare
Auktoriserad exteriördomare år
1995
Dömer följande raser
Har haft hund sedan
1959
Egna raser
Pudel, grönlandshund, welsh corgi pembroke, pointer
Språkkunskaper
Engelska, tyska
Har dömt i följande länder
Danmark
Norge
England
Ryssland
Finland
Belgien
Tyskland
Storbritannien
Har/har haft uppfödning av följande raser
Pudel alla storlekar, welsh corgi pembroke, grönlandshund och pointer samt cocker spaniel och mops i familjen.
Har/har haft avelshundar av följande raser
Pudel, welsh corgi pembroke, grönlandshund, shih-tzu
Egna framgångsrika hundar
Mer än 100 pudelchampions i alla storlekar
Mer än 30 welsh corgi pembroke champions
4 grönlandshundchampions,
Godkänd viltspårhund (pudel)
Övriga intressen
Naturen, de flesta djur (spec hästar, kor och höns), böcker, slöjd
Törnlöv Nils-Arne
Började ställa ut 1965 – Grönlandshund. Hade min första kull -69 av rasen Welsh Corgi Pembrook. Var en av grundarna till Polarhundsklubben 1971. Har tillsammans med min fru fött upp/ägt över 180 champions av pudel alla storlekar, svart & aprikos (2 bruna), welsh corgi och en handfull grönländare. Är fortfarande aktiv utställare och uppfödare. Dömer raser i grupperna 1, 2, 5, 8 samt 9. Var från 1990-2004 ordförande i Pudelklubben. Har kört mycket hundspann, lagt viltspår med pudel, lydnad och vallning med corgin samt lite ripjakt med familjens pointrar.